Transportation & Climate Initiative shares Draft Model Rule and Updates on Public Engagement Planning
March 1, 2021
The Northeast, Mid-Atlantic, and Southeast states and D.C. that make up the Transportation & Climate Initiative (TCI) today shared updates on the groundbreaking Transportation & Climate Initiative Program (TCI-P), a collaborative effort to put a brake on carbon emissions while investing in cleaner, more equitable and resilient transportation systems.
In a public webinar with over 600 attendees, TCI state agency staff shared updates on the TCI-P, including a description of the Draft Model Rule and proposed processes for public engagement to ensure that equity, environmental, climate, and transportation justice considerations are at the center of TCI-P development and implementation.
Individuals and organizations are encouraged to provide input and feedback on the Draft Model Rule and TCI-P's proposed public engagement processes through the online TCI-P Public Input Portal. Input on the Draft Model Rule is most helpful if received by 
Friday, May 7, 2021. (Previously, input had been requested by April 1.)
 Input on public engagement processes is invited on an ongoing basis.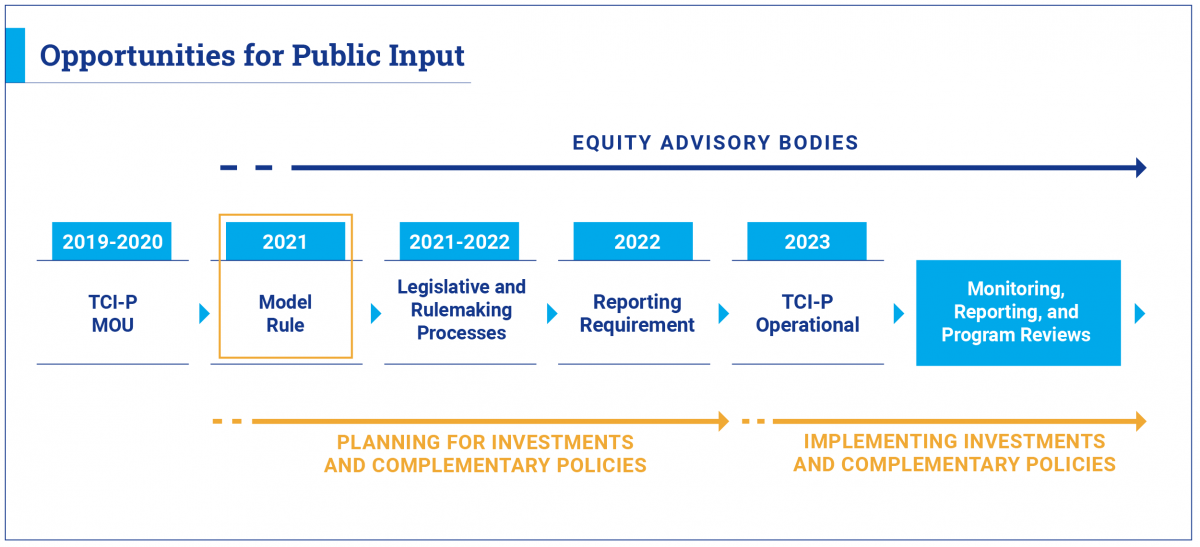 In December 2020, Massachusetts, Connecticut, Rhode Island, and the District of Columbia announced that they would be the first to launch TCI-P, initiating a new phase of public engagement and other steps to further develop the multi-jurisdictional low-carbon transportation program. The bipartisan TCI-P will cut greenhouse gas pollution from motor vehicles in the region by an estimated 26% from 2022 to 2032, and generate a total of more than $3 billion dollars over ten years for the participating jurisdictions to invest in equitable, cleaner transportation options and to help energize economic recovery. In an accompanying statement, eight other Northeast, Mid-Atlantic, and Southeast states signaled that they will continue to work together on the development of the details of the regional program while pursuing state-specific initiatives to reduce emissions and provide clean transportation solutions.